ABC Breakfast – New Delaware Healthcare Initiative
---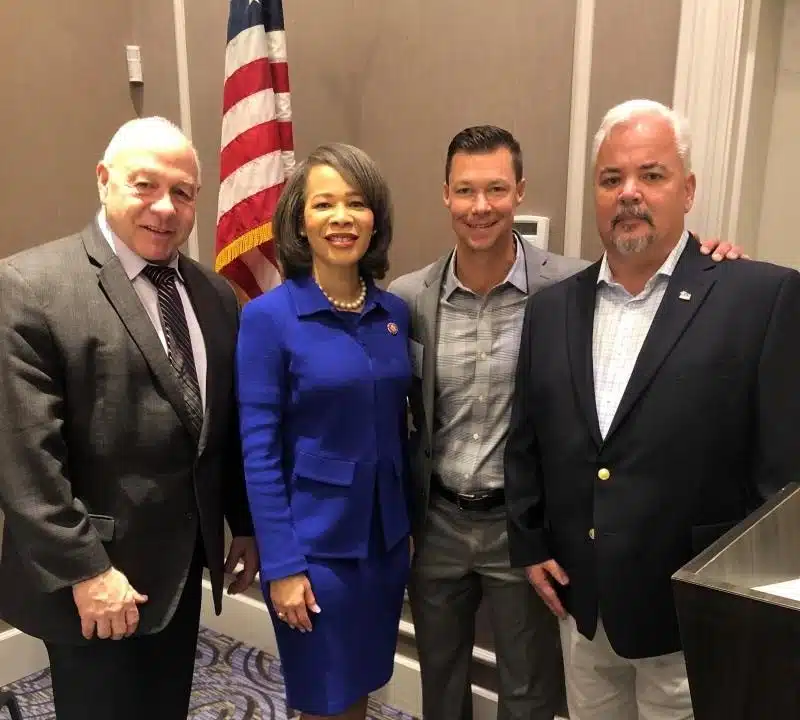 Individuals listed in the picture from left to right are as follows: Steve Lex, Congresswoman Lisa Blunt Rochester, Todd Roselle, Howard "Lew" Morrison.
Steve is a member of ABC and is Vice President of Pettinaro Construction Inc. Since 2017, Congresswoman Lisa Blunt Rochester has been serving as a U.S. Representative for Delaware's at-large congressional district. Todd Roselle is an ABC member and is Owner/Partner at Blue Rock Financial Group. Howard "Lew" Morrison member of ABC and serves as Vice President of Environmental Services Inc.
Anytime you get to hear from the individuals who have legislative influence over the future of healthcare in Delaware, you listen!
Todd had the chance to attend the Associated Builders and Contractors (ABC) of Delaware Legislative Breakfast at Christiania Hilton. ABC is a national association devoted to Merit Shop Philosophy – the principle is providing the best management techniques, the finest craftsmanship, and the most competitive bidding and prices strategies in the industry. ABC's vision is to promote open competition through Free Enterprise, enriching individuals while developing leaders in our community and the construction-related industries.
The breakfast's special guest was Congresswoman Lisa Blunt Rochester. Lisa is a member of the House of Representatives Energy and Commerce Committee which has broad jurisdiction over health care, the environment, commerce and trade, energy policy, telecommunications, manufacturing, and consumer protection. She is a leading voice in Congress on economic and work-related issues and was a former Secretary of Labor and Delaware State Personnel Director.
It was during Lisa's discussion that she spoke about the top issue she hears about from Delawareans, Healthcare. She mentioned that she is working on new legislation called the Cap Cost Now Bill which is targeted at lowering the cost of Healthcare in Delaware. One highlight from what this bill could bring a cap for prescription insulin at a $100 monthly limit. This cap would apply to anyone with an individual, group, or state employee insurance plan and would apply regardless of the amount of insulin required. While this wouldn't apply to everyone, one thing we do know is that a quarter of individuals in Delaware have diabetes or are pre-diabetic and this bill could help curb costs for those who need insulin.
The topics at the breakfast positioned future discussions regarding the state of Delaware and how we can best support our constituents. It's always encouraging to discuss these important topics with those in the position to create positive change.
If you have any ideas about what ABC or the state of Delaware could be doing to improve the workforce, let Lisa know HERE.