Your Goals.
Our Expertise.
Your Success.
Blue Rock is committed to developing & implementing the best plans that reflects both your short and long term goals.
Life Comes Full Circle.
Your Financial Future Should, Too.
We work with you to fully understand and address any financial planning or wealth management concerns you have. From asset management, estate planning, business retirement plans, and more, we handle the important work of financial planning and wealth management, so you can focus on living your life.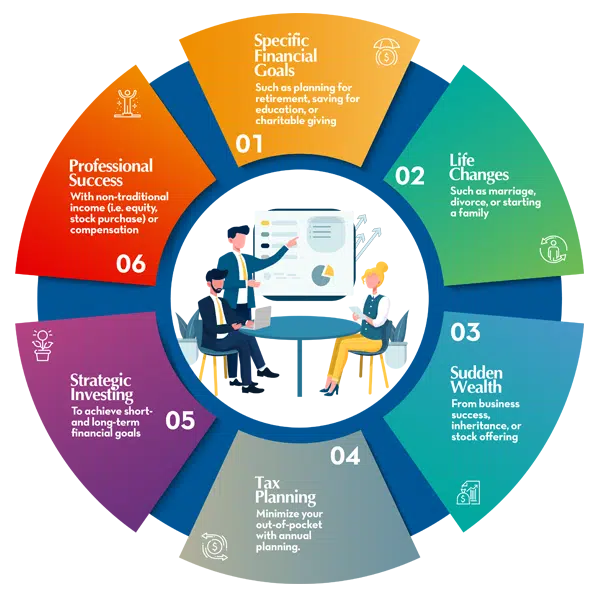 Personalized financial advice goes beyond standard plans to meet your individual needs. And, because our approach is comprehensive, our clients feel more prepared for the future.
Our Services for Individuals
---
It's time to start planning with confidence. Our financial advice is centered around your financial objectives. Every comprehensive plan is custom tailored to you. Why? Because generic financial plans don't see the bigger picture of you. Our goal is to deliver personalized service where clients get access to the very best in the industry.
We leave no room for stress. We will explain relevant details in layman's terms and relieve stress by implementing the logistical parts of your plan on your behalf.
Our Services for Businesses
---
Financial Planning should be at the top of every business's list. We assist business owners with the implementation of your 401k, retirement plan, and succession plan. We provide detailed processes for investment selection, management of fiduciary duties, and fee benchmarking.

Learn more about our services for businesses
Comprehensive Financial Services
Your goals are personal. Your financial plan should be too. We lay the building blocks for a more confident financial future - covering essentials, ensuring lifestyle, preparing for the unexpected, and/or leaving a legacy.
About Blue Rock Financial Group
Blue Rock Financial Group is a financial services firm offering a fee-based platform that provides comprehensive financial advice and services to individuals and businesses. Our Financial Planning Process is centered around our client's unique goals and objectives.

Our independence provides our clients access to the very best resources in the industry while delivering personal, customized service. We take time to explain the relevant detail and background regarding all planning recommendations. This understanding gives our clients the confidence and perspective to stay focused on their customized plans.

Client-focused. Full-service. Face-to-face. Today, and year after year.
Average Net Worth
Increase Over 5 Years
Employees hold
Professional Designations*
Are you an accountant, attorney or other trusted advisor?
*Holds or is working towards professional designations CFP® or CFA®
Financial Efficacy Matters.
Strengthen your financial literacy through our wide range of blog resources.